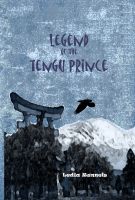 Legend of the Tengu Prince available and on sale now at Smashwords.com. Deadline ends April 30th.   https://www.smashwords.com/books/view/54992
Here is a coupon for 50% off the list price. The code for the coupon is UE64Z
(All related articles below are either book excerpts from the novel, Legend of the Tengu Prince or articles that are on this blog or similar blogs by LediaR.)
Here is a sample from the book:
Part One
TENGU
Prologue
 Fists clenched at his side, Magatsu stood behind a tightly packed copse of Cryptomeria spruce that towered over his head. The sharp evergreen scent tingled at his nose as a cool spring breeze blew past.
In the clearing beyond, a group of monstrous bird-like creatures gathered. Long, bulbous noses thrust from bright-red human-like faces, while black feathers covered most of their torso. Folded wings tucked at their sides. They stood upright on claw-like feet.
The bird men gathered around another like them who perched on a throne carved from wood inlaid with precious gemstones: red, green, blue and amber. A crown of Sakai leaves encircled the "king's" moss green hair.
A twig snapped and Magatsu turned his scowl toward a tanuki whose dark eyes glittered out from a smallish face. Its narrow snout sniffed the air. Pointed ears peaked above dense, earth brown and black fur that covered a round sausage-shaped body on short, stout legs. The raccoon dog's fluffy tail swished nervously against a tree trunk.
Magatsu sneered and raised one finger toward the pint-sized canine. The next instant a barb shot from his finger's tip toward one shining, black eye. The tanuki fell instantly to the ground writhing in agony.
Drawing in a breath, Magatsu sniffed with satisfaction, crossing his arms against his chest. He could not tolerate nosey creatures. It did not matter what their reasons for spying. They should learn to keep their wet noses out of his business.
When he turned back to the festivities, King Sojobo walked toward him, his hand held up in greeting, a smile on the other's face. Magatsu wanted to hurl himself toward his younger brother then tear him limb-from-limb. Since he had no power to bring this about, he spun away in the opposite direction. Leaves rustled beneath his feet as he strode toward and between a wall of trees that lead into the deepest part of the forest.
He refused to stand around waiting for his younger brother to gloat.
A moment later, he glanced over his shoulder to see the king standing just beyond the clearing. Torch light glowed around Sojobo, making it seem as if the sun had fallen into the forest behind him.
The second rush of hatred started as a spasm in the pit of Magatsu's stomach and worked its way up to scotch his brain. The burning sensation translated to his legs and began to run, his body tense, his fists ready to crush any that dared stand in his path. Before the trees grew too thick for him to do so, he unfurled his newly formed wings. Lifting into the open sky, he flew.
One day he would return and have his revenge when Sojobo least suspected it. In fact, they would all pay for what they did tonight. An image of rotting bodies in a pile with hot flames burning the dead flesh away to the bone the only thing that made this present moment bearable. A slaughter beyond imagining and he would make sure it happened at just the right moment.
Enjoy!
Related articles